Daily Newsletter
September 10, 2014
Codons, Anticodons & Amino Acids
---
Translation

is the process of "reading" mRNA, and using the code to construct a protein.
But what is the code? The nucleotide language of mRNA can be divided into codons. Three sequential nucleotides that represent a genetic (nucleotide) word. So, how do you read this code or nucleotide language?
In the image to the right, you hav
e have sequential nucleotides divided up into codons. Notice that AUG is listed as Codon 1.
This is important!
AUG is the Universal Start Codon.
Nearly every organism (and every gene) that has been studied uses the three ribonucleotide sequence AUG to indicate the "START" of protein synthesis (Start Point of Translation).
As we will see tomorrow, it takes more than a start codon to initiate transcription, but for now just remember that this is the codon that indicates the START point of the instructions on how to make a protein.
The start codon established the
Reading Frame
for translation. From the start codon,
every three sequential nucleotides will be viewed as a codon
.
This is critical!
Mutations can affect reading frames. For example, if a nucleotide is inserted between codon 2 and 3 (G G), would you have the same reading frame down stream? What if you deleted the first nucleotide of codon 4? What is the effect of changing the reading frame? What would happen to the resulting protein?
Insertions and deletions can change reading frames, but point mutations can also occur. In this case, one nucleotide is change to a different nucleotide. What would happen if the final nucleotide of condon 3 were changed to a C? To an A? How about the second nucleotide in codon 4? Change the U to an A, what happens?
Each codon is a "genetic word," and refers to a specific amino acid (thus changes to these words can result in changes to final proteins).
The tRNA is the agent of translation
. On one end of the tRNA, you will find an anti-codon. Anti-codons are complimentary to codons. Example: Codon 1 reads AUG. The corresponding tRNA would have an anticodon reading UAC. (Question: Would these be antiparallel?). Codon 2 reads ACG, so the anticodon would read UGC. Oppisite the anticodon, you will find a binding site for a specific amino acid.
An amino acid can be attached to the free 3' end of the tRNA. There is a
class of enzymes
capable of attaching an amino acid to a tRNA:
Aminoacyl tRNA Synthetase
. Below is a very basic cartoon of how an amino acid is added to a tRNA.
Note that an ATP is needed to complete the binding.
There is an Aminoacyl tRNA Synthetase for each tRNA-Amino Acid combination.
Below is a diagram showing the pairing of codon to anticodon. The diagram also contains a version of the Genetic Code table, showing the relationship between codon and amino acid.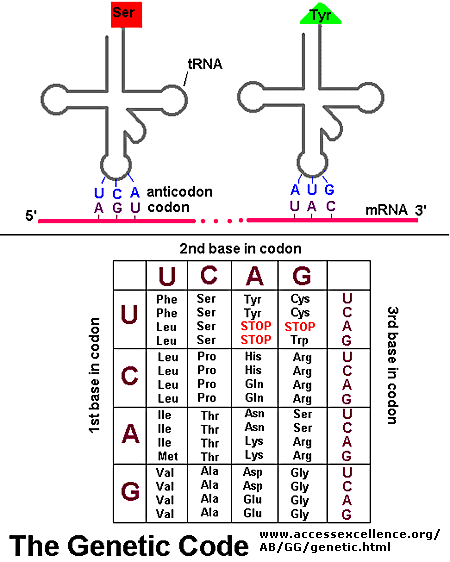 Note that three codons are referred to as STOP codons: UAA, UAG, and UGA. These are used to terminate translation; they indicate the end of the gene's coding region. What would happen if you lost a Stop codon?
---
Daily Challenge
In an earlier newsletter, we discussed Hemoglobin, and how the change of one amino acid caused the configuration change in the protein. Amino Acids are coded due to a codon. If you recall, Valine (Val) is found in place of Glutamic Acid (Glu). If we look at the sequences, we find that at the sixth codon, the wild type reads GAG, but the sickle type reads GUG. This is a
single nucleotide polymorphism
. Here is a video to explain SNPs (pronunciation: Snips)
Today, consider the consequence of a SNP. What would happen if it occurred in a Start or Stop codon. What would happen if an AAG upstream (before) the start codon had a SNP that changed the second nucleotide from an A to a U? What would happen if CGC changed to CGG? How about CAU to GAU?
After considering these, and looking at the above video, what are some of the consequences of a SNP? How could a SNP either stop translation or prolong it? Are all of the results harmful, or can they be neutral?
Link to Forum